I was amazed when an acquaintance once told me that they avoided going to restaurants when the kids were with them. Ooops, what did they mean? Their children were 3 and 5 years old at that time. She explained that it is just an exercise in futility, as they would not even get to enjoy the food and the kids would only be distracting the people around. Worse, they would only get hurt by running around or be reprimanded to silence by the proprietor and fellow diners. Thus, the only restaurants that the kids knew were the McDonald's restaurants.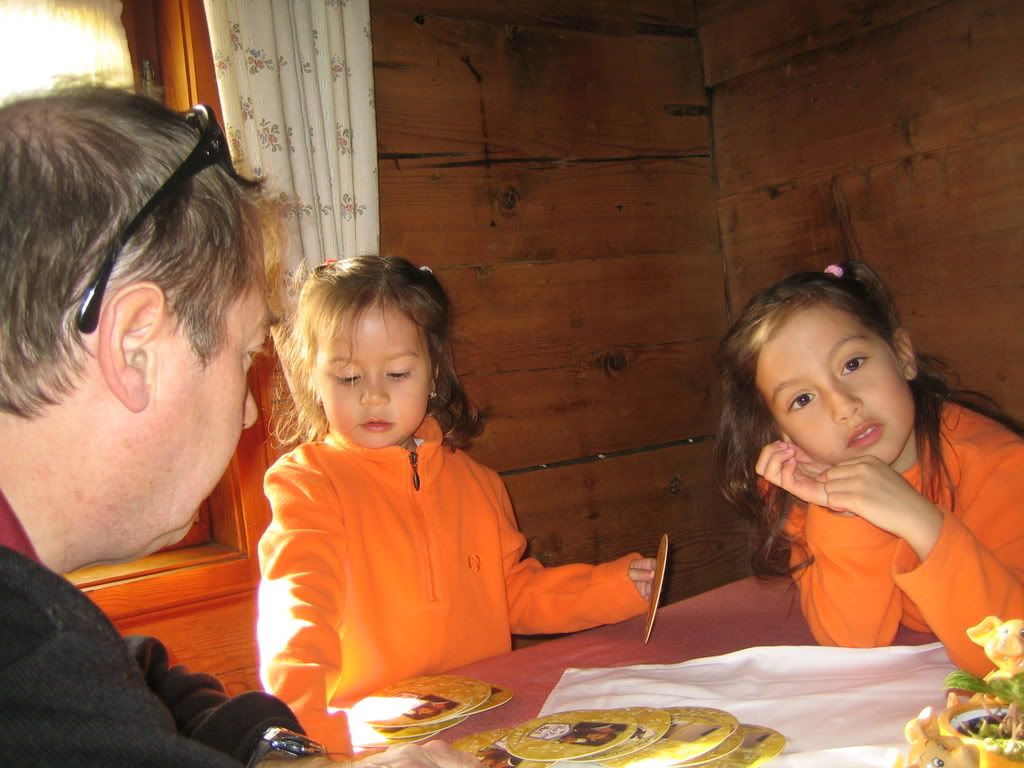 I mentioned that to my husband who replied "then they don't need children." Of course eating with a small child in a restaurant would be a big challenge, but so does eating at home. I cannot follow the logic really. We always bring our kids wherever we go, and eating out is one of the special bonding times we have — either in fast food restaurants or fine dining halls.
Most of the restaurants offer a high chair, if you are big on safety. Some restaurants even offer gifts of toys or activity books to keep the kids busy and not bored to tears. In Germany, I know a lot of restaurants that have kid's corners–where they arrange small tables and chairs, with loads of crayons and papers or even books, sometimes even a box of assorted toys to choose from.
One restaurant in Austria became our kids' favorite. It has an extra room that serves as a playroom, complete with lego blocks, building blocks, table games, doll houses, etc., and a carpet big enough to really let loose. The set up also includes a kiddie table for dining, and even high chairs. The door of the playroom can remain closed, in case the other diners would deem the kids to be a distraction. What's more, the children's menu (which serves also as a coloring pad) comes with a surprise gift. They really spoil the kids in there. At the end of our more than two weeks vacation, the kids were calling it 'their restaurant.'
I heard nobody complaining when we were there. It was really a big hit with vacationers with kids. And to be frank, that was our first vacation where we have really dined! No need to hurry, no tempers flaring — a real vacation! That the food was good was just luck. The thing was, as long as the kids ate and left us in peace long enough to enjoy our food, then everybody was happy.
Another favorite is a Greek restaurant near our home, where which we frequent during summertime. They have a playground complete with seesaws, slides and a sandbox with big boxes of toys. Of course, you can find such offers in club resorts, with animators to drag the kids from one activity to another, even dining with them together. But that would be another story.
Important, too, is that we make sure that we would be in the restaurant before 5 pm, the time when the kids are not yet so hungry, thus still in a good mood. Since the dining places are not yet full, we are able to choose a comfortable place for us.
Another thing is that every time we order our food, we make sure that the kids' orders would arrive a little earlier. Thus, we, parents can focus on helping them out, if needed. And they would be almost (if not already) full and satisfied when it is our turn to dine. The kids would then have a choice–to stay with us in our table and play or go to the kids's corner.
We also make sure that they know the golden rule: that playing on the table meant a silent game or drawing time. If they cannot abide by the rule, they have go to the kids' corner, if there's any. if there's none, they should try to sit still.
But what happens if you cannot find a kid-friendly restaurant? Stuff your mama bag with pens and pencils, small card games, their favorite toys, even books. In some cases, the kids would even find games between stacks of paper, bottle, mats/saucers in restaurants.
You know what we usually do? We always call to ask if there is a kids' corner in the restaurant that we want to visit. When on a holiday, we check out the internet or look at the brochuresupon arriving at the place. We alo look around the place. When there's something for the kids', then we stay. Because as long as they get busy, then dining out is just another child's play.
First published at PMN: Parenting.